641 company and startup teams aim for inclusion in the first ALTUM acceleration fund programmes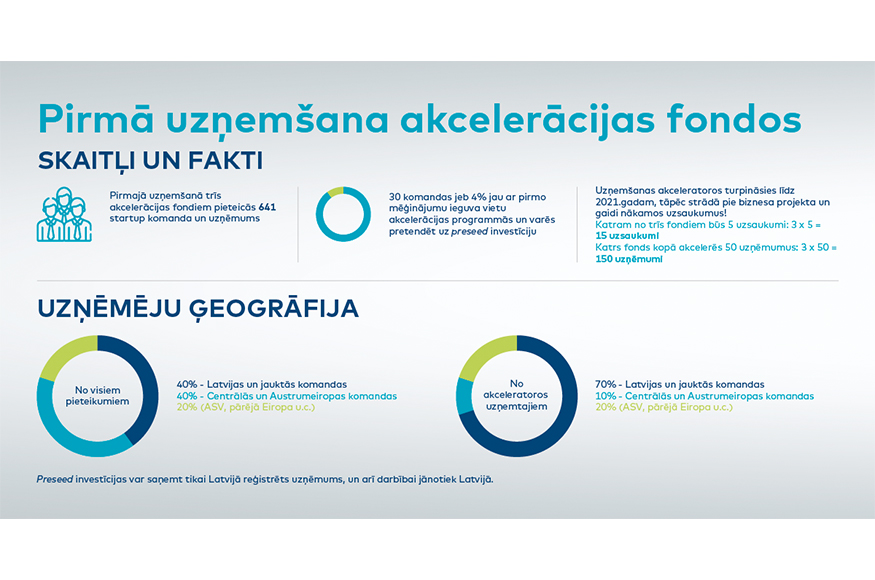 In September was concluded the application process and business project assessment for the public startup acceleration funds established in Latvia for the first time. Three managers of the funds, Overkill Ventures, Buildit Latvia and Commercialization Reactor have received more than 600 applications, which should be evaluated as a very high interest and exceeds the initial expectations.
For the first admission of the three acceleration funds applied 641 companies and startup teams; almost 30 have received a place in the acceleration programme already by their first attempt and will be able to apply for preseed investment. At the same time, admission will continue until 2021: each manager of the fund will announce five admissions to accelaration fund programmes, in which a total of 150 companies and startup teams will be able to participate.

Acceleration funds publicly selected last year by Development Financial Institution ALTUM, will receive 15 million euro from the European Regional Development Fund. In addition, fund managers have successfully attracted additional 1.35 million euro from private investors, creating a mutual fund of 16.35 million euro in total. Therefore, this is the largest ever available risk capital in Latvia for business projects at the early stage.
Juris Vaskāns, ALTUM Member of the Board:
"Latvia has become a part of the global risk capital in the area of acceleration funds, as shown by truly high interest of both local and foreign teams in our first acceleration programmes. At the same time, such interest very accurately characterises the strong competition in this area, which goes beyond any geographical borders – Latvian acceleration programmes compete with foreign accelerators, business angels, risk capital funds and other financial support programmes across the world. The same way, also every startup in Latvia globally competes with startups from across the world. We see that bright minds of Latvia can equally participate in this competition by having qualified for the acceleratiion programme already in their first attempt."

Of all applicants, 40% were representatives of Latvia or mixed teams, 40% – teams from Central or Eastern Europe, and 20% from Western Europe, USA and other countries. Of the teams qualified for the first programmes, 70% were representatives of Latvia or mixed teams, 10% were teams from the Central or Eastern Europe, and 20% were from the USA and other countries. Successful teams are repreented also by participants from Sweden, Poland, Denmark, Ukraine, the Great Britain and other countries. In order to apply for preseed investments, the company must be registered and perform its activities in Latvia.

Range of industries characterising the submitted projects is the widest: beginning with bio medicine and robotics and ending with the area of transport and sports.

When characterising the most frequent reasons that kept the teams from qualifying for acceleration programmes, Juris Vaskāns explains:
"Part of business projects that applied for acceleration were too green and required much more work. There were also well developed and already self-sufficient companies to which acceleration process cannot essentially provide the added value; therefore, several other financial solutions would be more suitable for implementation of these projects. Also, as other stumbling blocks keeping the teams from qualifying for acceleration can be mentioned age of companies above 3 years, and lack of rapid growth potential of business. But ALTUM offers other support programmes for development of such businesses. It is also important that each of the three funds focuses on specific sectors; and business projects beyond these sectors may not qualify for participation in the respective programme. Insufficient skill capacity of teams should also be mentioned, including business understanding and language skills. Yet, it is important that acceleration programmes will be open up to 2021; therefore, I invite to work on development of new business ideas and apply for the next invitations."

Essence of acceleration is to help start promising high added value early businesses. The new funds are focussed on commercialisation stage of a startup; moreover, in the segment of innovative and technologically capable companies. Contrary to classic risk capital funds, accelerators not only invest, but also provide acceleration services for further growth that are very necessary for the startup business. Therefore, managers of acceleration funds select such companies that can be helped by the acceleration fund team in rapid development of a startup: that is, specialised mentors from across the world, contacts of sales and investors, technological support, prototyping, market segmentation, etc. Each acceleration fund provides also preseed and seed investment options.

Managers of the funds select the most competitive and potentially successful business projects with the most motivated entrepreneurial teams. Commercialization Reactor specialises in commercialisation of science or deep-tech. Buildit Latvia is focussed on hardware/internet-of-things direction. And Overkill Ventures works with work environment and business efficiency software direction.