ALTUM signs Letter of Intent on participation in EUR 1 billion investment fund for infrastructure development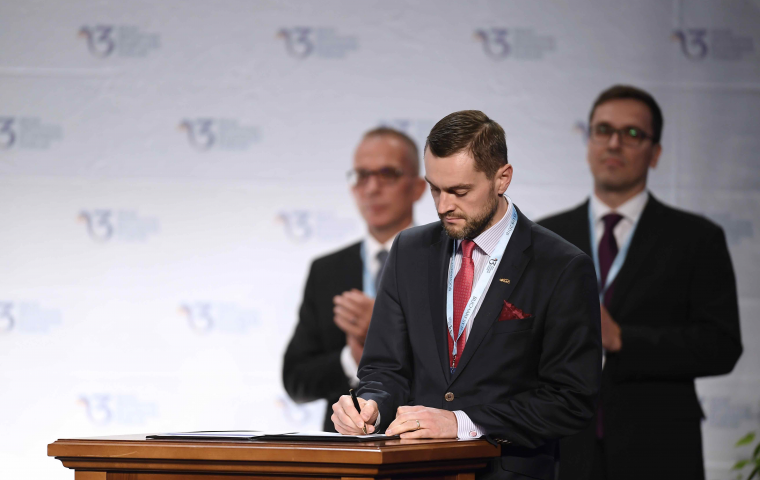 Yesterday, September 17, Mr. Reinis Bērziņš, the Chairman of the Board of the Joint Stock Company "Attīstības finanšu institūcija Altum" was in the Romanian capital Bucharest, where he signed the Letter of Intent on the sidelines of the Three Sea Initiative Summit regarding Latvia's participation in the formation of a EUR 1 billion investment fund.
The Three Seas Fund is the initiative of the promotional institutions of 12 Baltic, Black and Adriatic Sea countries, with the aim of facilitating the development and financing of infrastructure projects, which are still lagging behind in terms of investments in these countries when compared to the situation in Western Europe.
ALTUM board chairman Reinis Bērziņš:
"It will be possible to financing important infrastructure projects in Latvia from the Three Seas Fund, including technical assistance for developing projects. The Three Seas Fund will not compete with current financial initiatives, but will serve as an additional catalyst for the development of current, as well as new projects. There will be special cooperation between the public and private sectors, and those benefiting the most will be the founding countries of the investments fund and their residents."

The Investment Fund will be made up of payments made by its founders and other resources attracted from investors. ALTUM is planning to invest approximately EUR 20 million into the investment fund. At the same time, the Three Seas Fund is also planning on attracting resources from European Union funding and other financial initiatives. The Letter of Intent was also signed by promotional finance institutions of Poland, the Czech Republic, Croatia, Romania and Slovakia. Other Three Seas Initiative countries will have the opportunity to join the investment fund at a later time.

It is planned that the Three Seas Fund will focus on strategically important transportation, energy, digital and other infrastructure projects. The countries making up the Three Seas Initiative include Latvia, Lithuania, Estonia, Romania, Slovakia, Bulgaria, Poland, the Czech Republic, Austria, Slovenia, Hungary and Croatia.