RCG Lighthouse will continue growing "Lighting as a Service" business with ALTUM green bonds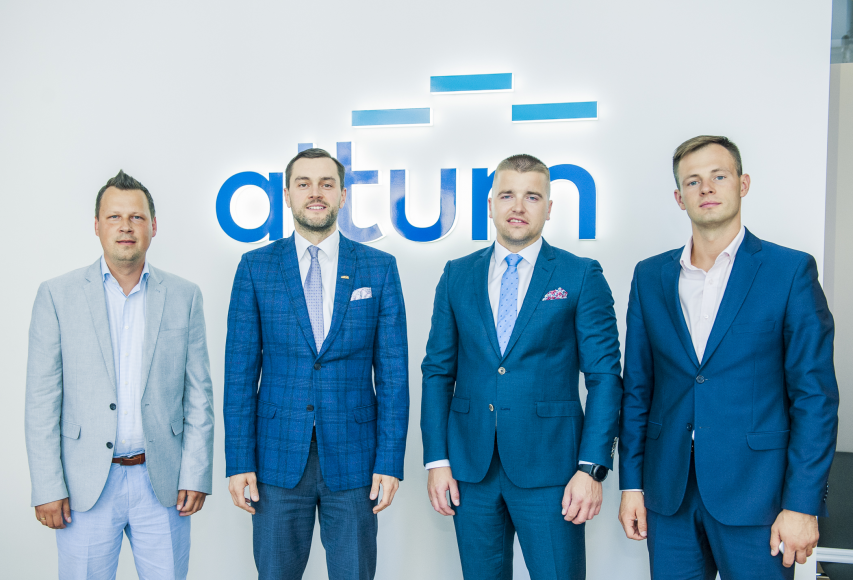 ALTUM, a state-owned development institution of Latvia, and RCG Lighthouse, an energy service company (ESCO), have concluded a cooperation agreement worth a minimum of 1 million EUR to finance "Lighting as a Service" projects in the Baltic States and beyond.
Finance for RCG Lighthouse has been allocated from the recent 20 million EUR green bond issued by ALTUM (rated Baa1 by Moody's) and is designed to fund energy efficiency projects developed by ESCOs. RCG Lighthouse will use this finance to further expand development and growth of "Lighting as a Service" projects for commercial and industrial customers.
 The focus for RCG Lighthouse is on the highest efficiency LED (light-emitting diode) lighting system implementation in "Lighting as a Service" projects in the private sector. The company also plans to launch activities in the public sector and in street lighting by the end of 2018. RCG Lighthouse has successfully delivered lighting energy efficiency projects for more than 130 objects including warehouses, retail stores, factories and other building types with zero upfront investment for the customer by sharing saved electricity and maintenance costs during 5-year contracts. The efficacy of LED lighting systems used by RCG Lighthouse is close to 200 Lm/W mark, a European record, which combined with additional sensors and implementation expertise gained from delivered projects, allows replacing even LEDs with LEDs to save additional 50% on electricity costs.
 Kaspars Osis, CEO and Co-Founder of RCG Lighthouse:
"We are continiously searching for new opportunities to maximise the value of currently available energy efficiency technologies. A combinition of supplier-independent LED know-how, experience in execution and the ability to take full responsibility for financial, tehnical and operational performance, allows delivering tangible and risk-free savings to our customers from day one after installation. This deal with ALTUM will give us the opportunity to do more and bigger "Lighting as a Service" projects in the Baltic States and beyond. Having talked to many financiers in Europe, I can say with confidence that this ALTUM program practically solves the main barriers in energy efficiency finance. Therefore, I would like to encourage all CEOs and CFOs to act and start saving from today by adopting the highest efficiency LED lighting and increasing lighting quality at the same time." 
 Reinis Bērziņš, CEO of ALTUM:
"Energy efficiency nowadays is no longer a fashion trend, but a necessity which reaches far beyond lower energy invoice. It is a combination of reduced consumption, process automation, work safety, environmental protection, corporate social responsibility and other non-energy benefits on top of overall business competitiveness. Energy efficiency in Latvia has huge potential as nearly 95% of both private and public companies can take concrete action to improve energy efficiency. In the meantime while talking to entrepreneurs we have concluded that the main barriers for energy efficency are availability of finance and lack of technical knowledge. We want to be a driving force and with the help of issuing green bonds, as the first national development institution in CEE region, we want to provide the necessary impulse for wider adoption of energy efficiency projects. ESCO concept which involves a combination of technical knowledge and finance is gaining momentum in Europe and I am pleased that we are able to provide such opportunities in Latvia. This will benefit local companies as well as society at large."
 As part of ALTUM's energy efficiency program for companies, ESCO companies have available to them financing of up to EUR 2.8 million in loans. The financing is meant for companies with experience and knowledge in one of the energy sector's niches, like, for example, LED lighting, sun collectors and panels, heating boilers, pumps, recuperation equipment, electric facilities and so on. ESCO companies ensure clients a wide range of services – consultations on energy matters, conduct energy audits, organize electric energy procurements, arrange necessary documentation, monitoring, installing necessary equipment, etc. ESCO companies ensure the design and planning of necessary equipment, their installation or replacement, maintenance, as well as their modernization and even financing as part of the cooperation model. ALTUM works together with ESCO companies by helping to finance the purchase or replacement of their clients' equipment. 
 About ALTUM
ALTUM is a state-owned development finance institution in Latvia, which offers state aid for various target groups with the help of financial tools (such as loans, credit guarantees, investing in venture capital funds, etc.). ALTUM develops and implements state aid programmes to compensate for the market's shortcomings that can't be solved by private financial institutions. In June 2017 ALTUM received international credit rating Baa1 by Moody'swhich approves its strong financial stability. In October 2017 ALTUM issued 20 million EUR green bonds which are now listed on Nasdaq RigaBaltic Bond List. 
 About RCG Lighthouse
RCG Lighthouse is the most efficient "Lighting as a Service" company in Europe which has successfully implemented more that 130 projects for commercial and industrial customers in Latvia, Lithuania and Estonia while working on projects in Sweden, Finland and Poland. "Lighting as a Service" allows customers to receive instant cash flow savings with zero upfront investment by sharing electricity and maintenance costs during 5-year contracts. RCG Lighthouse takes full financial, technical and operation risk in its projects to ensure that customers can focus on their core business development.