Venture Capital and Private Equity
Venture Capital and Private Equity investments target rapid-growth companies. Such companies are typically start-ups, scale-ups and mature companies with a promising potential. By nature, venture capital provides high-risk investments and, therefore, it does not compete with low-risk financing (e.g., bank loans). Venture capital investors add value and actively contribute their expertise to foster business development and increase value of their target companies.
In Latvia, a relatively new market, venture capital funding is mainly provided by institutional investors, where substantial contribution stems from government agencies . As the capital market matures, the proportion of private funding in venture capital sector increases. According to recent statistics, 95% of Latvia-focused funds' resources are financed explicitly by institutional investors. For internationally oriented local funds this figure reaches 64%.
Altum venture capital investments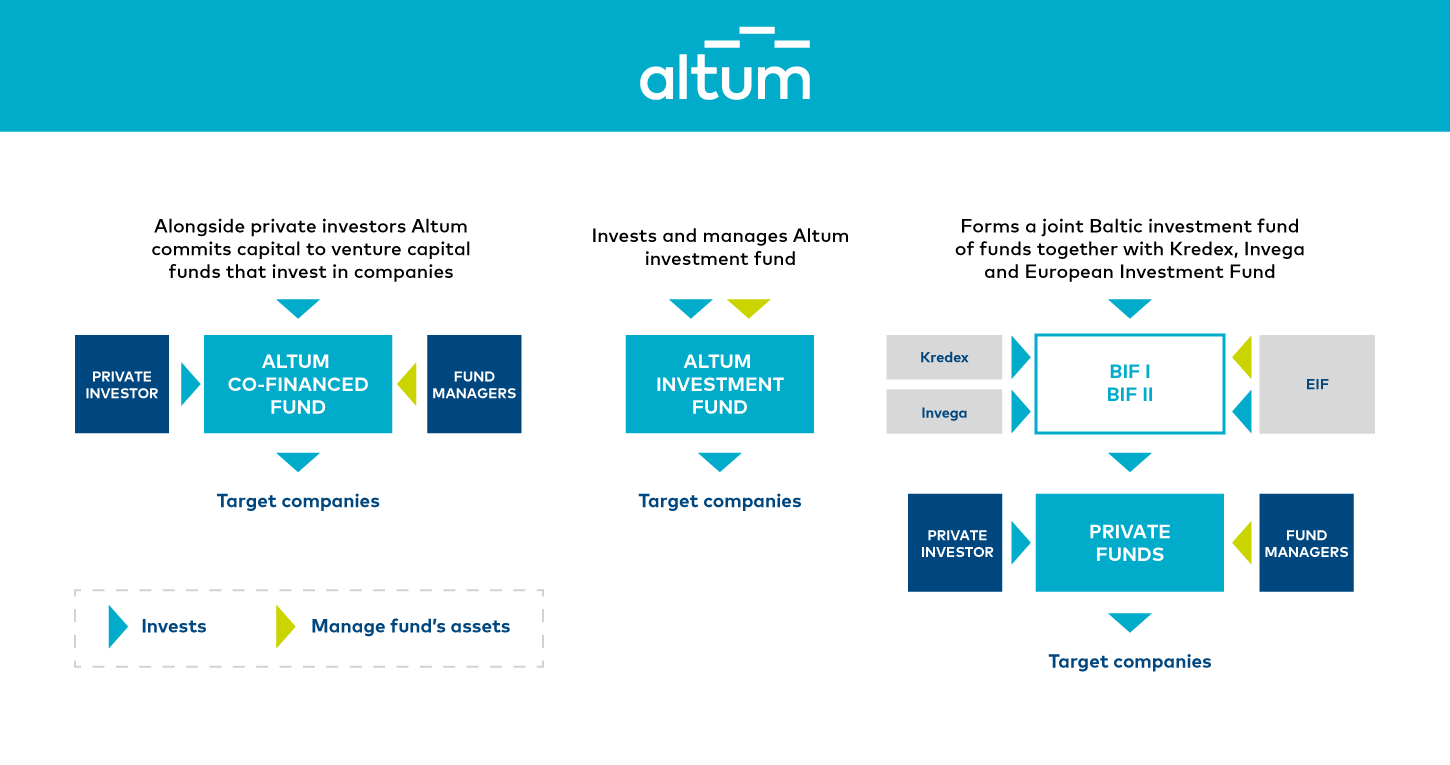 ALTUM plays a pivotal role in the creation of local venture capital ecosystem in Latvia. ALTUM invests substantial ERDF and state funds in the venture capital sector. During the last few years, more than 180 million euros have been invested. Notable funding has been earmarked for the following years as well.
Altum has invested in 16 funds, including Baltic funds of funds (i.e., BIF1 and BIF2). Venture capital investments have contributed to the establishment of many start-ups with high added value products in IT, sciences and manufacturing industries.
*Data on target companies, September, 2022
We are members of Latvian Private Equity and Venture Capital Association (LVCA),
Invest Europe, as well as European Venture Fund Investors Network (EVFIN) and EIF-NPI Equity Platform

Contacts for fund managers and policy makers

Types and uses of funding
Venture capital funding available to companies at different stages of development
Entrepreneurs striving to develop a scalable business idea, a ready-made project or those looking forward to amplifying an existing business are encouraged to use the most appropriate type of funding. Funds provide multiple financing opportunities to companies at different stages of development. In order to explore investment attraction opportunities please reach out to fund managers directly by using contacts provided in their websites.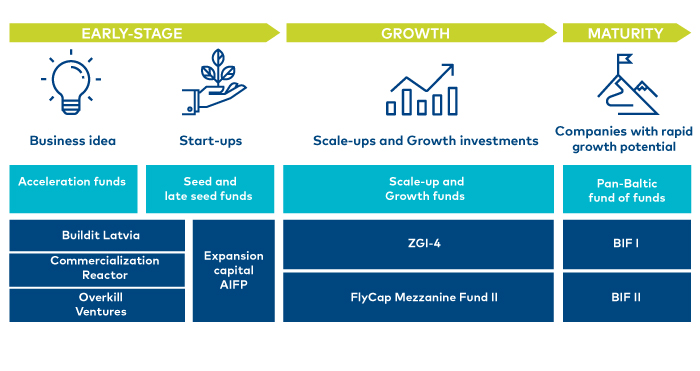 What is venture capital intended for?
Venture capital could be:
Altum-backed venture capital funds target high added value industries: IT, medicine, sciences, Green Deal.
How can a venture capital investment benefit your company?
The amount of venture capital funds available and the extent of an investor's role in your company depends on whether it is only idea, a start-up or a company already conquering the market. Companies will receive not only funding, but also an active investor participation in business development and growth, knowledge about the chosen industry and networking benefits. These benefits will spur growth and value.
How to receive venture capital funding?
To find out more information about available financing and means of acquiring it, contact fund managers. To convince an investor of your idea's, project's or company's future growth, you will need to provide a clear and an ambitious business plan with the capabilities to execute it. Key indicators: business plan viability, a team and its ability and competence to execute the plan as well as scalability of your business idea.
Fund managers
To find out more information about available financing and how to acquire it, contact fund managers.